Special Operations Medicine
Introduction
A unique form of military medicine is that which is practiced in support of Special Operations.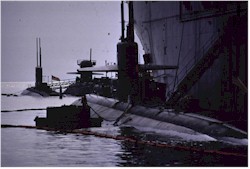 This support might take the form of:
Humanitarian assistance missions
Casualty care in isolated settings
Preventive medicine in garrison
Civilian and public health care in developing nations
Medical care of strenuously-trained individuals, working with extreme stresses in hostile physical environments.
The basic principles of Special Operations Medicine are the same as in conventional military medical settings.
The way in which those principles are applied may be quite different, because of unique mission requirements, extremes of environment, and availability (or non-availability) of resources.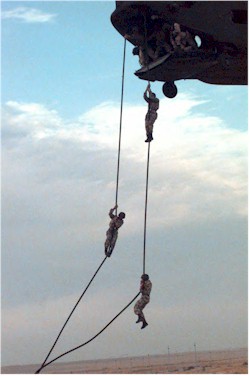 All active and reserve Army, Navy, and Air Force Special Operations Forces based in the United States are assigned to the US Special Operations Command. USSOCOM is located at MacDill AFB in Tampa, Florida.
USSOCOM's service component commands are:
U.S. Army Special Operations Command (USASOC, at Fort Bragg, NC)

Special Forces (SF)
Rangers
Special Operations Aviation
CA
PSYOP

Naval Special Warfare Command (NAVSPECWARCOM, at the Naval Amphibious Base, Coronado, California)

NSW Group One and Special Boat Squadron One in Coronado
NSW Group Two and Special Boat Squadron Two in Little Creek, VA

Air Force Special Operations Command (AFSOC, at Hurlburt Field, Florida).

Three Special Operations Wings
Two Special Operations Groups
One Special Tactics Group
In addition, the Joint Special Operations Command (JSOC, at Fort Bragg, NC) studies special operations requirements and techniques, ensures interoperability and equipment standardizations, plans and conducts joint exercises/training, and develops tactics.
Home · Military Medicine · Sick Call · Basic Exams · Medical Procedures · Lab and X-ray · The Pharmacy · The Library · Equipment · Patient Transport · Medical Force Protection · Operational Safety · Operational Settings · Special Operations · Humanitarian Missions · Instructions/Orders · Other Agencies · Video Gallery · Forms · Web Links · Acknowledgements · Help · Feedback
Approved for public release; Distribution is unlimited.
Bureau of Medicine and Surgery
Department of the Navy
2300 E Street NW
Washington, D.C
20372-5300

Operational Medicine
Health Care in Military Settings
CAPT Michael John Hughey, MC, USNR
NAVMED P-5139
January 1, 2001

United States Special Operations Command
7701 Tampa Point Blvd.
MacDill AFB, Florida
33621-5323
*This web version is provided by The Brookside Associates, LLC. It contains original contents from the official US Navy NAVMED P-5139, but has been reformatted for web access and includes advertising and links that were not present in the original version. The medical information presented was reviewed and felt to be accurate in 2001. Medical knowledge and practice methods may have changed since that time. Some links may no longer be active. This web version has not been approved by the Department of the Navy or the Department of Defense. The presence of any advertising on these pages does not constitute an endorsement of that product or service by either the US Department of Defense or the Brookside Associates. The Brookside Associates is a private organization, not affiliated with the United States Department of Defense.
© 2015, Brookside Associates, LLC. All rights reserved

Other Brookside Products