Diagnosis of Pregnancy
Pregnancy may be suspected in any sexually active woman, of childbearing age, whose menstrual period is delayed, particularly if combined with symptoms of early pregnancy, such as:
Nausea (1st trimester)

Breast and nipple tenderness (1st trimester)

Marked fatigue (1st and 3rd trimesters)

Urinary frequency (1st and 3rd trimesters)

The patient thinks she's pregnant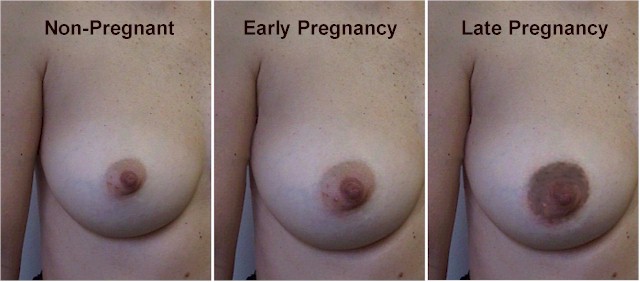 Early signs of pregnancy may include:
Blue discoloration of the cervix and vagina (Chadwick's sign)

Softening of the cervix (Goodell's sign)

Softening of the uterus (Ladin's sign and Hegar's sign)

Darkening of the nipples

Unexplained pelvic or abdominal mass
Pregnancy should be confirmed with a reliable pregnancy test. Urine or serum pregnancy tests can be used. Both are reliable and detect human chorionic gonadotropin (HCG). Pregnancy is considered present if 30-35 mIU of HCG are present in the urine or serum.
Ultrasound may be used to confirm a pregnancy, if the gestational age is old enough for visualization of a recognizable fetus and fetal heartbeat. In that situation, a confirmatory HCG is not necessary.
Among the military population of the United States Armed Forces, women represent almost 20% of the personnel.
Approximately 10% of them are pregnant at any given time.

Half of those will be known to be pregnant, while the other half are not known to be pregnant. In some cases, it is too early in the pregnancy for anyone to know. In other cases, the woman knows, but has not brought it to the attention of her medical providers.
For these reasons, it is particularly important to aggressively test for pregnancy in women with clinically significant symptoms.