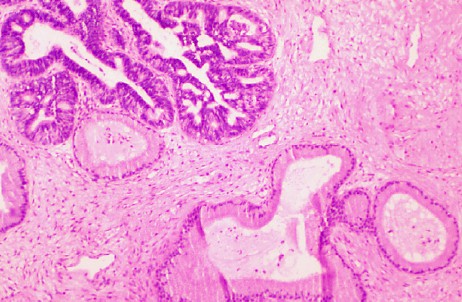 Adenocarcinoma in situ of the cervix (upper left), next to normal glandular epithelium (lower right).
Glandular cells are normally found in the endocervical canal and endometriuim.
While most cancer of the cervix derives from squamous cells (skin cells of the cervix), a few cases derive from the glandular cells that line the endocervical canal.
The presence of atypical glandular cells on a Pap smear is clinically troubling: This finding may indicate:
Endometrial cancer, or its precursors

Adenocardinoma of the endocervix, or its precursors

Squamous cell cancer of the cervix, or its precursors

A normal patient.
For this reason, a careful workup of the patient is usually indicated, including colposcopy, directed cervical biopsies, endocervical sampling and repeat cytology. Endometrial biopsy should be performed in women over age 35, women with abnormal bleeding, and women whose atypical glandular cells are endometrial in appearance. Abnormalities identified through these techniques are managed in the usual way.
Should no abnormality be found during this workup, high-risk patients (those with AIS or AGC-Favor Neoplasia) on Pap smear will usually need an excisional biopsy of the cervix. Most favor a cold knife conization for this, but a LEEP procedure could be acceptable in selected patients.
Long term followup would include frequent (every 4-6 months) Pap smears until four consecutive negative results are obtained.